Stylish and renewed with better design Xiaomi powerbank, new name is lighter and stronger than with Redmi use experience to offer. Redmi 10000 Mah Portable Fast Charger, dual USB port output and Lithium Polymer batteries. A portable charger should have all kinds of safety having Redmi 10000 Mah Portable Fast Charging all mobile to your devices can use.
Xiaomi Redmi 10000 Mah Portable Fast Charger with What Can i Do?

Fast charging supported portable charger can charge your device at same time with two different electronic unit, charger with led light indicator.

Xiaomi Redmi 10000 Mah Portable Fast Charger

10.000mAh power powerbank with most phone turned off three complete charge. (This case can change according to your device's battery capacity)

Box Contents:

-Xiaomi Redmi 10000 Mah Portable Fast Charger

-User Manual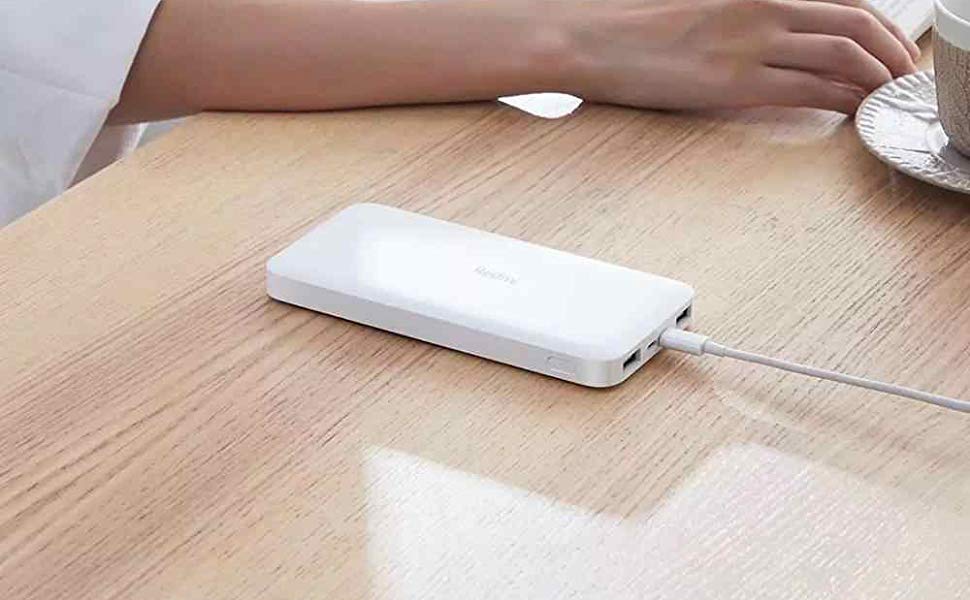 Brand: Xiaomi
Model: PB100LZM
Material: ABS
Type: Portable Mobile Power Bank
Battery Type: Li-Polymer Battery
Capacity (mAh): 10000mAh
The High Current: 2.6a
Connection type: Micro USB, Two USB Output Interface and Type C input
Power: 37Wh
Input: 5V 2.1A
Output: 5.1V-2.4A (single port output); 5.1V-2.6A (dual port output)
-Xiaomi Redmi 10000 Mah Portable Fast Charger
-User Manual and Warranty card
Redmi 10000 mAh Fast Charge Powerbank Type-C
New Product-Original Xiaomi Quality
5.1 Volt 2.6 Amps QC 2.0 Fast Charger General
Dual Input (Type-C + Micro Usb)
Redmi Power Bank 10000mAh, high speed charging and your devices busiest and most long invigorate the permeation, enabling dual USB output portable power power plant.
Main Features:
●10000mAh Large Capacity
More durable and charging optimizes efficiency, continuous power
●Dual USB Input and Output
Devices capable of simultaneously charging two USB port with USB-C and Micro USB, two charging way; Convenient and quick
●Power input
5V 2.1A power input, each connected device for fast and efficient.
●High-Density Lithium Polymer Batteries
Premium Lithium polymer battery cells. Smart phone and tablets as well as various digital cameras and palms with gaming devices compatible.
Technical Specifications
General

Brand: Xiaomi

Model: PB100LZM

Material: ABS

Type: Portable Mobile Powers

As basic Compatible: apple, iPad,LG,MP3,MP4,SAMSUNG

Battery Type: Li-Polymer Battery

Capacity (mAh): 10000mAh

Battery Current: 2.6a

Connection type: Micro USB, Two USB Output Interface, C Type

Product Details

Power: 37Wh

Input: 5V 2.1A

Output: 5.1V-2.4A (single port output); 5.1V-2.6A (dual port output)

Dimensions and Weight

Product weight: 0.4000 kg

Package weight: 0,4500 kg

Product Size (L x W x H): 15.05×7.36×1.51 cm / 5.93×2.9×0.59 inch

Package Size (L x W x H): 16.00×8.00×2.00 cm / 6,3×3,15×0,79 inch

Package Content

Package included: 1 x Power Bank, 1 x Chinese Manual